Click Store Direct
Carbon Flick ™
£32.99GBP
Regular price
£21.99GBP
Click Store Direct
Carbon Flick ™
£32.99GBP
Regular price
£21.99GBP
The Only Card Holder You'll Ever Need!
With our woven carbon fibre cardholder, you can easily access your cards with a single flip! Our card holder is for people who want to fit in with the trend and have a slim, sleek wallet not the old outdated chunky dad wallet.
Our Carbon Flick Holder also comes with a money clip so you can carry your cash too. It contains a lever which will pop all your precious cards out. 
PRACTICAL & SAFE
We've selected the highest quality materials for our lightweight, slimline card holder. Our dual-layer RFID blocking technology, quick-access card ejector system and aircraft-grade aluminium construction provide an unbeatable combination of functionality, security and style.
HOLDS 8 CARDS
Securely stores 5 embossed debit/credit cards or 8 business/store cards (which are slightly thinner). Cards are held safely in place until released with our unique ejector system.
THE PERFECT GIFT
Elegantly packaged in a luxury matte black gift box, the stylish POWR card holder and Key Chain gift set is the perfect gift for that special person in your life. Not only is it a great alternative to their conventional, bulky wallet - but it'll also help prevent their sensitive information from being stolen.
ULTIMATE RFID PROTECTION
Our card holder has been rigorously tested and is proven to block all credit cards, debit cards, driver licence and ID cards that operate at a frequency of 13.56 MHz from being read. (Some older ID cards and hotel room passes which operate under 125 KHz will still work within this holder.)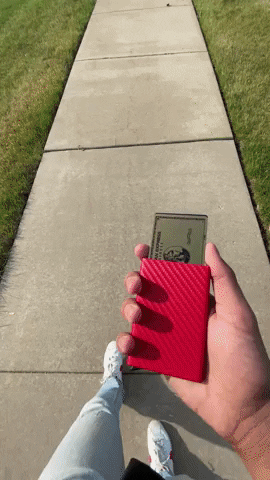 Why people love our product
Nothing else like it
Unique design that can't be beat.
Incredible quality
Solid material that screams quality.
Simple design
Perhaps the best looking product.